Offerings 2020- 21
The Career and Technical Department of the Hancock County School District serves students of all race, color, national and ethnic origin to all the rights, privileges, programs, and activities generally made available to students at the school. It does not discriminate on the basis of race, color, national and ethnic origin, disabilities, or sexual orientation in the administration of its educational policies, admissions policies, scholarship programs, and athletic and other school administered programs.
The Hancock County School District provides facilities, programs, and activities that are accessible, usable, and available to qualified disabled persons. Further, the Hancock County School District shall not discriminate against qualified disabled persons in the provision of health, welfare, and other social services. Personnel decisions shall be based on merit and the ability to perform the essential functions of the job, with or without reasonable accommodation.
Career, Technical and Agricultural Education (CTAE) provides all Georgia students with the opportunity to select at least three sequenced electives in a career pathway, along with the recommended academic course work, to prepare them to continue their education at any level or to enter the world of work. The Hancock County Career and Technical Department has authorization to teach the following career pathways: Business Education, Family and Consumer Science, JROTC, and Dual Enrollment.
The courses offered through Hancock Central High School's Career Technical and Agricultural Education Department are as follows:
Human Resources Management: HIRED or FIRED? Students will analyze the primary functions of human resources management which include recruitment, selection, training, development, compensation, and evaluation. The course is designed to equip students with operational knowledge of hiring, managing, and firing employees. Throughout this course, students will be introduced to the Human Resource Management role by following the life cycle of an employee from organizational entry to exit.
Plant and Landscape Systems Pathway: A career in plant and landscape systems offers a variety of job opportunities in the fields of education, research, golf and sports turf, landscape design, parks and gardens, public service, production management, and sales and marketing. Some jobs available include landscape designer, greenhouse manager, golf course superintendent, plant breeder, florist, agricultural chemical researcher and garden center owner. Educational requirements in this field vary by job. Two‐ and four‐year programs are available in this area. Advanced degrees may be necessary for some research‐related jobs. Those who are interested in this field should be able to carry out projects and work independently, have a commitment to quality and customer service, have an appreciation of our natural environment and have good communication skills, both written and verbal. Employment opportunities in this field should be good, with more job openings than job seekers. Employment is expected to increase in response to the increasing demand for both products and services by commercial producers, landscape contractors, turf managers and the general public. New avenues of research in biotechnology to develop plant and food crops that require less fertilizer, fewer pesticides and herbicides, and less water will also increase the demand for careers in plant science and horticulture.
JROTC-Army Pathway: Junior Reserve Officer Training Corps (JROTC) is a leadership education program. This program will help students build a strong knowledge base of self-discovery and leadership skills applicable to many leadership and managerial situations. Mastery of these standards through project-based learning, service learning and leadership development activities will prepare students for 21st Century leadership responsibilities.
Food and Nutrition Pathway: Family & Consumer Sciences (FCS) offers a unique focus on families, work, and their interrelationships, providing a solid foundation of success for any student. Through relevant coursework, community projects, student organizations, and internship/mentoring opportunities, students develop the essential leadership, life, and communications skills they need to become responsible citizens and leaders in family, community, and work settings.
The first course in the Family and Consumer Science pathway is Food, Nutrition and Wellness. Food, Nutrition and Wellness is an essential course in understanding nutritional needs and food
Choices for optimal health of individuals across one's lifespan. This course leads to the advanced nutrition pathway and develops a knowledge base and the skills necessary to select among alternatives in the marketplace, with an emphasis on nutrient content, the development of chronic diseases, and food safety.

Food and Nutrition through the Lifespan is the second course in the Family and Consumer Science pathway. Food and Nutrition through the Lifespan is an advanced course in food and nutrition that addresses the variation in nutritional needs at specific stages of the human life cycle: lactation, infancy, childhood, adolescence, and adulthood including old age. The most common nutritional concerns, their relationship to food choices and health status and strategies to enhance well-being at each stage of the lifecycle are emphasized. This course provides knowledge for real life and offers students a pathway into dietetics, consumer foods, and nutrition science careers with additional education at the post-secondary level.

The third course in the Family and Consumer Science Pathway is Food Science. Food Science integrates many branches of science and relies on the application of the rapid advances in technology to expand and improve the food supply. Students will evaluate the effects of processing, preparation, and storage on the quality, safety, wholesomeness, and nutritive value of foods. Building on information learned in Nutrition and Wellness and Chemistry, this course illustrates scientific principles in an applied context, exposing students to the wonders of the scientific world. Careers will be explored.
Bridge Bill:
House Bill 186, sponsored by Rep. Randy Nix, was passed in 2011 by the Georgia General Assembly and mandates career pathways for ALL public high school students beginning in the 2013-2014 school year. Back in 2010, the legislature passed House Bill 400, the "Building Resourceful Individuals for Georgia's Economy" (BRIDGE) legislation, sponsored by Sen. Fran Millar, who is the current chairman of the Senate Education Committee. The BRIDGE Bill also requires career pathways and establishes that ALL students, beginning in 8th grade, develop a graduation plan focused on career interest and CTAE courses offered in the high schools.
Equal Opportunity Disclaimer
In accordance with the office of Civil Rights Compliance
In compliance with relevant state and federal legislation, the Hancock County School District does not discriminate on the basis of race, sex, age, national origin, mental status, religion or disability. The Hancock County Board of Education complies with the Americas Disabilities Act of 1990 and is "An Equal Opportunity Employer.
For more information about the Special Education and Support Services Office, please contact:
Dr. Mesha Mathis, Special Education Director
Section 504 and Title IX Compliance Officer
Phone: (706) 444 5775 Ext. 133
Hancock County Board of Education
10571 Highway 15 North
Post Office Box 488
Sparta, GA 31087
Ms. L' Angra Webster, Human Resource Director
Phone: (706) 444-5775 Ext. 126
Hancock County Board of Education
Post Office Box 488
10571 Highway 15 North
Sparta, GA 31087
Mr. Ramirez Lewis, CTAE Director
Phone: (706) 444-7009 Ext. 172
Hancock Central High School
11311 Highway 15 North
Sparta, GA 31087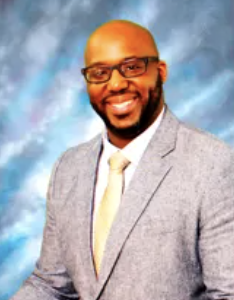 Mr. Ramirez Lewis, Director
rlewis@hancock.k12.ga.us
706- 444- 7009 ext.172